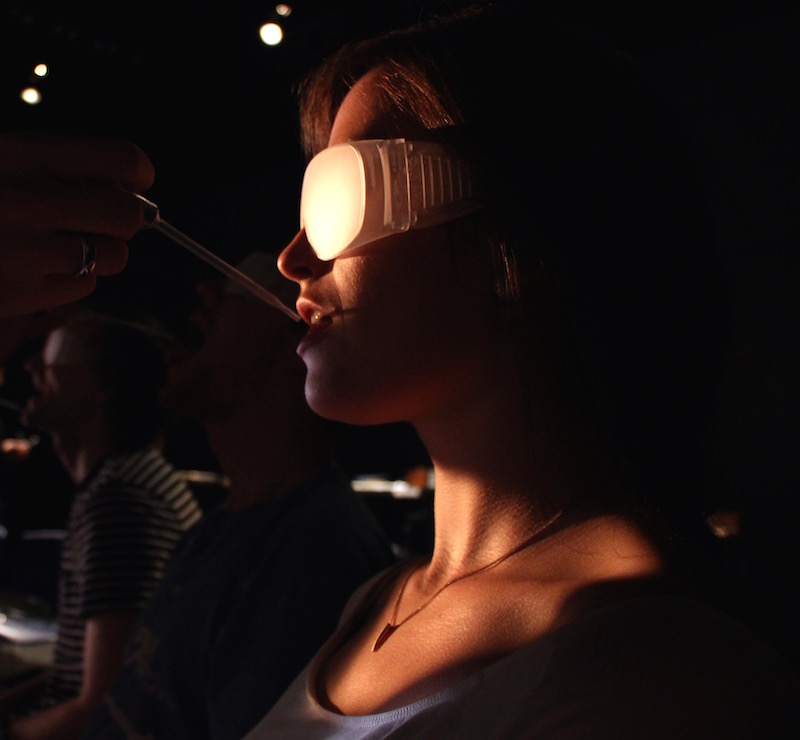 written by Ben Hoover in collaboration with
director Rachel Karp and
designers Kelsey Burns, Scot Gianelli, Raphael Mishler, and Ben Vigus

Columbia University School of the Arts
Schapiro Theatre
In One Sense is a consciously multi-sensory theatrical experience that aims to interrupt the habitual desensitization to daily life.

A retired detective receives a surprise visit from Cass(andra), a potential client, who has seen the dead body of a chef, arranged among his final meal behind the locked doors of his restaurant. Unbeknownst to her, the chef's death is the beginning of a murder spree that targets artists of all kinds—those who have committed their lives to specializing in one of their senses. The detective, long out of the game, is reluctant to help, but Cass's persistence wins him over and he sets out to solve one last case.

Presented immersively, In One Sense asks, "Who killed our senses?"

The performance isolates each individual sense and forces the audience to experience the play through one sense at a time: first with all of them (to tune the orchestra), then through taste alone, then hearing, smell, sight, and finally touch.
Photos by Ben Vigus